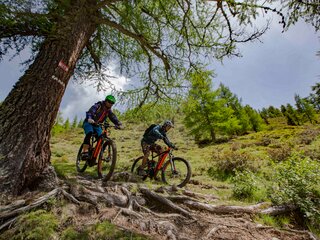 Find your favourite bike...
at our bikestation at Kaiserburgbahn.
mountainbike
"sport" or "race"
The right bike for allrounders, who accept the challenge of every meter uphill.
Original bike with suspensioned front tire. Offers stability, low weight and reliability. With a mountainbike you are ready to go on forest roads, easy ways, mountain streets and flowy single trails.
e-mountainbike
This high-quality e-mountainbike has a powerful motor and an enduring battery. The extra energy boost will make you reach every peak. Basically everyone can enjoy riding an e-bike. Ambitious bikers get an extra push and are able to bike even more meters in altitude. Hobby bikers gain new freedom, expand their possibilities and enjoy even tours in the mountains.
By the way: also available for kids!
mountainbike fully
Fully is short for "full suspension bike" and means having a completely suspensioned bike. Not only the front parts of the bike are shock absorbing, but also the rear. Best performance and an optimized traction on uneven, bumpy and gravelly terrain. You immediately get a feeling for the easy handling and gain security.
A high-end mountainbike for an optimized day on the trails.
e-mountainbike fully
You wouldn´t mind a little wind at your back? A powerful partner for the uphill parts. And as soon as you are on your way downhill you will be surprised by the easy handling and good feeling. The full suspension will help you easily finding a way through bumps and by the way relieves your joints and back.
For fitness-oriented bikers and everyday cyclists. And for quick tours if you have little time!
mountainbike kid
When the young ones go biking with the big ones… We offer riding fun for kids and teens – suitable bike sizes for all ages.
Safety first for kids sports! You get the full safety equipment including helmet, elbow, knee and spine protection.
Have fun on the bike at the training area Kaiserburgbahn bottom station with obstacles and pumptrack.
e-mountainbike kid
Are you ready to speed up? Kids can easily use the power of our e-mountaibikes for an extra-boost uphill. All the family can enjoy even longer rides now. The young ones will love it, to keep up . Good suspension, high-class brakes and profiled tires will be a perfect company up mountain. Give it a try!