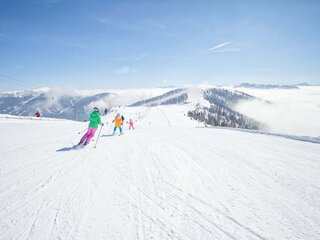 ski rental
INTERSPORT Bad Kleinkirchheim
The perfect turn
is waiting for you
You already booked your winter holidays. And you are looking forward to the days in the snow more and more. Then it´s time to check your skiing equipment. You already have skis and boots or a snowboard? Are size and lenght okay for you? Do you maybe need a skiservice and binding adjustment?
Do you want to rent directly in the skiing area?
We help you checking everything. To make you get on the slope quick.
family benefits
 advantages at INTERSPORT Rent
At our ski rental shops we give kids a warm welcome! And there are a few advantages for families:
Kids up to 10 get the equipment for free (skis, boots, helmet and sticks) , if both parents rent skis or snowboard.
That´s for the same period of time and of course also possible for grandpa and grandma...
Youngsters up to 16 years safe 50% from the adult price.
Even for the skidepot at our rental shops youngsters safe -50%.
Book and pay in advance
and still stay flexible
Early birds get the best price! If you book your equipment on time, we are giving you some benefits...
Of course we can help you, if there are any questions. What we already want you to know:
You can book skis and boots, even if you don´t have detailed information yet.
Special information, like body data, can be filled in later on. It is also possible to get an upgrade anytime.
It is possible to try the goods to find the perfect fitting gear. We advise you and it is always possible to change sizes, lenght or type.
You have a special wish? Let us know about it - with a note at the ski rental booking we can meet your expectations best - if possible.
Life can change... You can not go on your holidays? Bookings can be cancelled and money will be transferred back!
skis for the whole winter?
for wintersport-freaks and everyone who is on the slopes a lot!
Rental for the winter!
Our RENTertainers give you advise about the best model for you, you choose your nwe favourite - and keep it for the winter. Or you swap for a different model or senght if you want...
But give us back the skis overnight for a service. While you are enjoying apresski, we will fix the egdes perfectly. This service is included in the full winter rental and thus GRATIS!
Needing boots also?
Renting or buying - it´s your choice! Use our test&buy offer to see if the boots fit perfectly well. Up to 2 days of rental will be deducted, if you buy new skiboots.
Or you keep the rented boots for the winter.
We are looking forwar to welcome you!