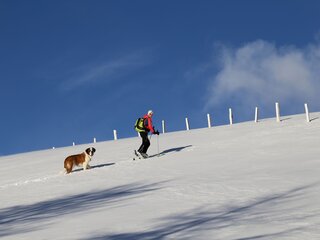 Your INTERSPORT
in Bad Kleinkirchheim
Networking at it´s best
At INTERSPORT in Bad Kleinkirchheim we cooperate!
We are 2 INTERSPORT Shops and 3 INTERSPORT Rent Shops in Bad Kleinkirchheim and all of our sport pros want you to enjoy your day up mountain best possible.
Our team members like activities in the nature. That´s how we know, what equipment will fit you and your sport best possible. Of course, we always have some special insider information regarding the most beautiful view, the sunniest slope or an astonishing family adventure day,
Our network in Bad Kleinkirchheim is completed by a big ski school with 3 meeting points and a summer sports school. You get all the information for planning your holidays with us. Strong connections give us the flexibility to meet all your needs!
Wishing you wonderful experiences at Nocky-mountains!
Right equipment no matter what the weather is like
We will find the perfect clothing. Fitting your needs and your favourite sports.
Protection against cold, wet and wind.
We promise.