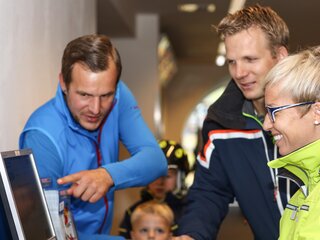 your choice
Finde deinen Lieblingsski im Skiverleih - unsere RENTertainer beraten dich gerne
price per day for 7 days rent
Markenskier
der aktuellen Saison
7 Tage fahren - 6 Tage zahlen
Abholung am Vortag
ab 15 Uhr
Kinder bis 10 Jahre kostenlos
Kostenloser Modellwechsel
innerhalb der Verleihklasse
Kostenloser Wechsel
zwischen Ski und Snowboard
Täglich kostenloses Skiservice
für Verleihski
priceRable.Entdecke alle Vorteile
/
Book now
Carefree package
no deductible with breakage of theft
Your rental equipment is insured against breakage and theft. In the event of damage, i. e. if your ski breaks or is stolen, a deductible has to be paid.
That is for example:
Superior € 400
Premium € 270
Economy € 150
(more information at our rental shops)
With the carefree package the deductible is completely omitted. The prices for adults are...
1 rental day € 6
2 rental days € 10
3 or more days € 20
For kids it´s half the price!
For theft a police report is required.