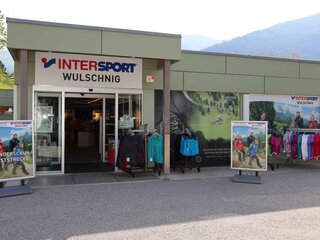 INTERSPORT Wulschnig
in St. Oswald
The focus is on you
Many clients love to come back to our shop.
And they meet long term team members, who love their jobs. This loyalty is making us proud.
We know: "Only those who get better, will stay good."
We are good f.e. at bootfitting. Or with a stock of big sized functional sportswear. Or with information regarding sports in the region. To be there for our clients is part of our quality standard. It all begins with the opening times.
We are open 7 days a week.
In april and november, when there is no season and the cable cars take a break we are not available all the time. But we can reserve your personal shopping assistant at your favourite time…
EVERYTHING for your sport!
You need a backpack for hiking? Or the perfect fitting trekking shoe?
You are not sure what type of skis to buy? The skiboots hurt and you can not enjoy your skiing days?
Then you are right with us.
Near Biosphärenparkbahn Brunnach bottom station, easy to reach in the valley, you find our sports shop.
That means, you can directly test your new equipment on the slopes.
And enjoy it.
In summer
During the summer month we are directly at the entry to the most wonderful hiking area.
At the place, where in winter skis are rented, you can find best hiking shoes in summer. Easily to reach, directly on your way from parking to the cable car, you can already see our shop at Brunnach bottom station.